COVID-19 Multilingual Poster-Maker
The group created an interactive translation tool, the COVID-19 Multilingual Poster-Maker, to allow communities all over the world to create a poster in their language and disseminate the original five basic health and safety instructions from the WHO to prevent the spread of COVID-19.
The poster-maker was designed to accommodate an unlimited number of languages and dialects in order to allow the sharing of information as widely as possible through email, social media, or as printed hard copy. The objective was to globalize the poster, but also localize it into every language possible.
How did the poster-maker work? The poster-maker was an app that guided users to create posters in any language following a common format. It allowed users to generate a poster; it was not simply a single poster. The poster-maker provided a drop-down language list with 7,000 languages to choose from. (These languages were further broken down into dialects or regional variants, and sometimes multiple scripts. Counting all of these options, there were nearly 13,000 choices. For simplicity here, we will refer just to the use of languages, not dialects and scripts.) After choosing a language, a poster in that language would be automatically created using the lexical translations generated by the powerful PanLex database. These translations could then be further refined by human translators from the language communities themselves if desired.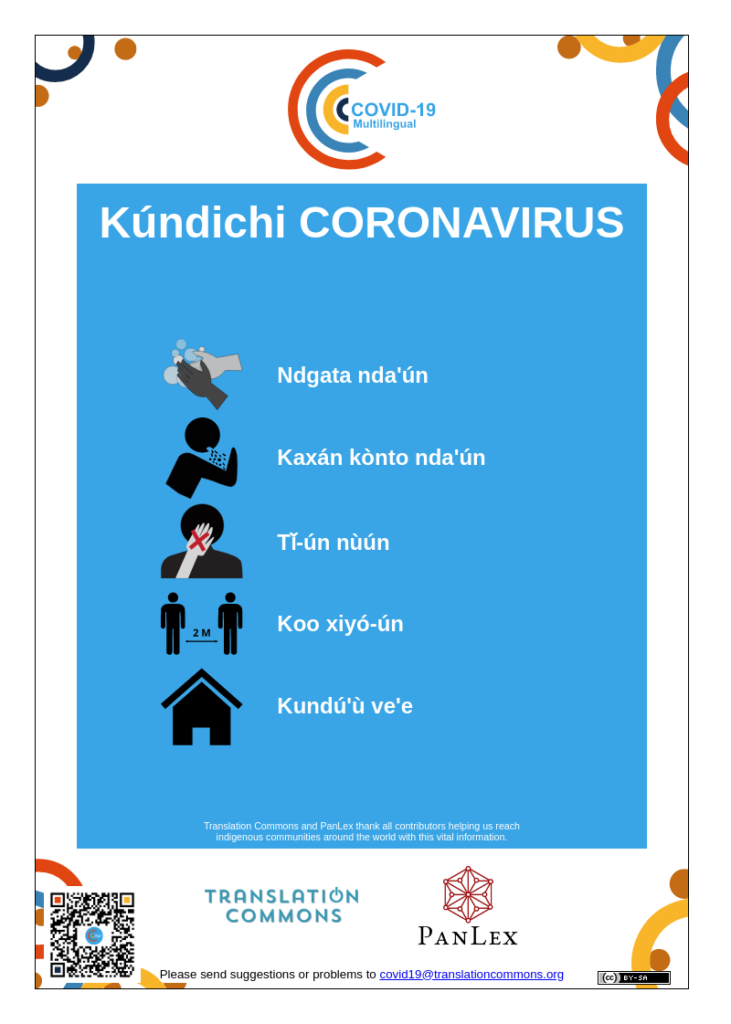 The design of the poster was kept simple with five graphic icons and a corresponding instruction so it would not be visually busy.
The poster-maker app was showcased in many media including UNESCO's website and Facebook page as well as other Covid-19 resource pages.
Within months, users created 352 unique posters for dissemination in their communities. We then added an optional audio feature so recipients of the posters could also click a button to listen to a recording of the instructions in their own language, offering access to the vision impaired and those of limited literacy.
For many indigenous communities around the world, their languages are not supported digitally as much as the dominant language of their region, meaning some did not have any information on the coronavirus pandemic; this very simple poster was the first reliable COVID-19 information available in their language.
Our volunteers, who showed up enforce, observed that it was very personally uplifting to be involved in this project during a time that was tumultuous and with many unknowns.
It has been our honor to connect with so many interested parties around the world with the common goal of spreading important health and safety information in a timely fashion.
As part of our Language Digitization Initiative we help communities digitize their scripts and create fonts and keyboards. Here are some of the posters created for languages that were not yet enabled digitally and for whom we created fonts and keyboards to create these posters.
Tangsa language with Lakhum script (non-unicode)
Zaghawa language with Beria script (non-unicode),
Hmoob Dawb
Moob Leeg
Below is a list of the 352 languages and dialects in which posters were created, thus potentially reaching 7.5 billion speakers (including multilingual speakers). The archive of posters is now accessed through the Internet Archive's Wayback Machine. To view a poster, click "poster" next to a language name. Please allow a few moments for the page to fully load.